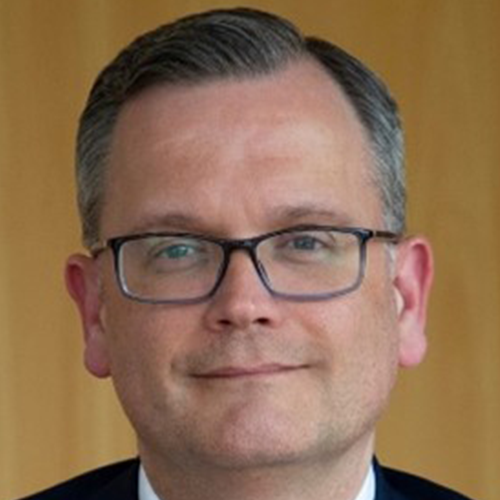 Stephen Moir
Chief Executive, Cambridgeshire County Council
---
A proud and committed public servant, Stephen is the Chief Executive of Cambridgeshire County Council, having taken up his role in February 2022. He had previously worked for the council between 2005-2011, as a corporate director. Prior to re-joining Cambridgeshire, Stephen was the Executive Director of Corporate Services for the City of Edinburgh Council from 2017 leading a broad portfolio of customer and strategic services.
A Human Resources (HR) professional by background, Stephen has undertaken a range of leadership roles in Local Government, the NHS, and the Police Service, at local, regional, and national levels, including as the Chief People Officer for NHS England and the Head of the HR profession for the NHS, the 5th largest employer in the world. As well as his employed roles Stephen has also held a range of non-executive or professional association roles, including his term as President of the Public Services People Managers Association (PPMA) in 2007-2009 and served for 6 years as a Board member of the Chartered Institute of Personnel and Development (CIPD). He has also been a Home Office appointed independent non-executive member of the National Policing Improvement Agency (NPIA), a Non-Executive Director of the Involvement and Participation Association (IPA) and a Non-Executive Director of the Improvement and Development Agency (IDeA) for Local Government. Stephen was also previously the Vice Chair of the University Court for Edinburgh Napier University.
A Chartered Companion of the CIPD, a Fellow of the Chartered Management Institute and a Fellow of Royal Society for the encouragement of Arts, Manufacturing and Commerce (RSA), Stephen is also an honorary Fellow of the Institute of Employment Studies. With an Honours Degree in Biological Sciences and a Masters Degree in Personnel Management with Information Technology, Stephen was conferred an honorary Doctorate by Middlesex University for his contribution to public policy and human resource management.
In Autumn 2022, Stephen was elected as the Deputy National Spokesperson for Leadership and Learning for the Society of Local Authority Chief Executives and Senior Managers (SOLACE).