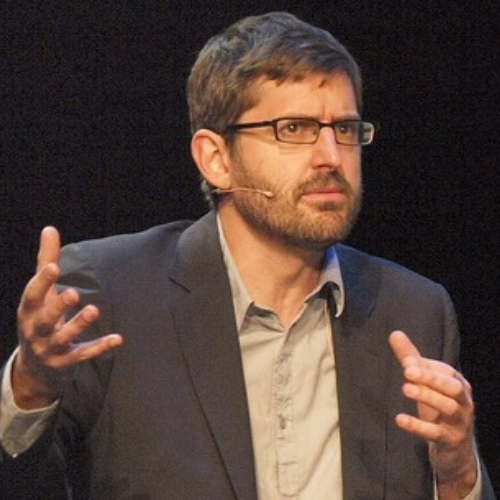 Louis Theroux
Acclaimed Documentary Presenter
---
Fireside chat - Managing tension and conflict

In response to an increasingly polarised society, Louis will share his experience in tackling controversial issues and how you can successfully manage tension and conflict both in work and everyday life as well as how to deal with all the uncertain and strange things which can happen whilst being your authentic self.
---
Biography
Louis Theroux is a documentary-maker, producer and writer. His unique style of investigation has looked into everything from celebrities to the US prison system, far-right groups to adult films. His simple yet direct style has revealed the personalities, lifestyles, loyalties and beliefs of those often misunderstood, written-off or ignored
Starting out in print journalism, Louis moved to television as a correspondent on TV Nation, Michael Moore's ground-breaking documentary series examining the strange, dangerous and controversial elements of American life. Louis then joined the BBC to develop his Weird Weekends series. Louis Theroux's Weird Weekends established his signature style, putting himself at the heart of the subject, often in quite dangerous and compromising positions. He's trained with American wrestlers, mixed with gang members, and interviewed those on the fringes of society. He also spent time with self-help gurus, out of work actors, and rappers. Rejecting the more confrontational style of other documentarians in favour of an informal, curious, unassuming approach, his work is consistently revealing, informative and entertaining.
Returning to the UK, Louis followed Weird Weekends with When Louis Met… in which he spent time with a range of unusual celebrities from Ann Widdicombe to Chris Eubank to Neil and Christine Hamilton.
Louis has also looked at dementia, South African extremists, gambling, transgender issues in children, motherhood, eating disorders and cosmetic surgery. Other famous exposés and acclaimed investigations have included The Most Hated Family in America, The City Addicted to Crystal Meth, Extreme Love – Autism, and Louis Theroux's LA Stories. He produced a feature-length attempt to examine the secretive world of Scientology in My Scientology Movie, and described many of his experiences on and off camera in his book Gotta Get Theroux This: My Life and Strange Times in Television.