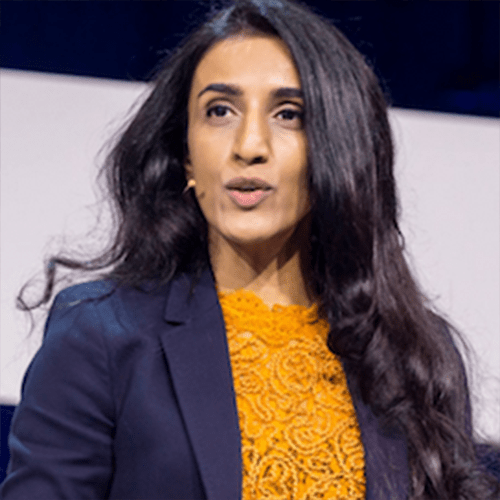 Dr Ayesha Khanna
Co-Founder and CEO of ADDO AI
---
Ayesha Khanna is an entrepreneur and AI expert, and is the co-Founder and CEO of ADDO AI, a data and AI strategic advisory. ADDO helps organisations realise the influence and potential of data and AI, as well as building platforms for sectors from retail to healthcare to transport. As well as AI Ayesha has worked in the areas of smart cities and fintech with both public and private sector organisations. She also works with the Singaporean government, and founded 21C GIRLS, a non profit that aims to deliver free coding and AI tuition to girls in Singapore.
ADDO have been named as one of Asia's leading AI companies, and Ayesha one of the continent's leading woman entrepreneurs. Ayesha has worked with SMRT, Singapore's largest public transport company, SmartDubai which is transforming the city's governance and service delivery, and Mercy, one of the largest hospital networks in the US. She has also worked with telecoms companies, banks and insurance businesses across Asia.
After over a decade working on Wall Street in areas around data analytics, large scale trading and risk, Ayesha worked in a range of technology and advisory roles from leading an education technology company to serving as a Faculty Advisor at the Singularity University. She also directed the Future Cities Group at the London School of Economics, and co-founded the Hybrid Reality Institute, a research network focusing on themes around human-technology co-evolution.
In addition to her leadership of ADDO, Ayesha is on the board of Infocomm Media Development Authority, the Singaporean government's tech sector development agency charged with driving its smart nation and digital government goals. She has also worked with Singapore's Ministry of Education on future skills and education. Ayesha is also a member of the World Economic Forum's Global Future Councils, which offers guidance and analysis of the impact of new technologies, including AI.
Ayesha explores the power of AI to personalise products and services, and to innovate and improve productivity, but also how humans and technology can best work together. She is the author of Straight Through Processing and co-author of Hybrid Reality: Thriving in the Emerging Human-Technology Civilization. She's a regular commentator on technology and smart cities on broadcast media across Europe and Asia, and has contributed to The New York Times, Forbes, Time, and the Harvard Business Review.